"The bond with a dog is as lasting as the ties of this Earth can ever be."
― Konrad Lorenz
Dogs have been considered as the man's best friend & have established themselves as loyal & faithful companions. They perform a wide variety of services for their humans. While some of them are a good source of entertainment, there are few who assist people who struggle with anxiety and depression. And then come the guard dogs that have an unrivaled love for their humans and can possibly do anything to keep their humans safe and away from trouble.
When it comes to protecting your home, relying on the guard dogs is a smart choice as they are good companions as well as protectors. The guard dogs keep an eye out for danger and with their proactive nature they are willing to deal with any sort of problem. Guard dogs are intelligent and can with the perfect training they can easily distinguish between an unusual movement and threatening situation. They are indeed courageous enough to face any danger. They have inbuilt territorial instincts through which they strongly identify their home and are willing to guard it against intruders & trespassers.
Doberman Pinscher
The Doberman pinscher is an intelligent, easily-trained breed making it a popular guard dog. It is a medium sized built dog with a muscular & compact body along with short and hard hair. Being the ultimate dog in protection & companionship, Doberman pinscher has been bred as a guard dog for over 100 years. Highly intelligent and sharply focused, the Doberman Pinschers are very agile, alert, fearless and cautious around the unfamiliar people making them ideal security dogs. They are not only fast but their attack is quite powerful. On the other side, Dobermans are very loving, sensitive dogs that easily bonds with the family and loves human interaction. The training process of the Dobermans is very easy to train since they are muscular, athletic determined and assertive, with great strength, energy, and stamina. They also require exercise and solid training on regular basis. With a plethora of characteristics, this is among the best guard dog breeds.(Image – www.pinterest.com)
Rottweiler
Rottweilers have a massive, powerful body. They are one of the most intelligent breeds who are loving, loyal and devoted to their owners. They love their families unconditionally and are ready to face any potential threat without a moment's hesitation. Rottweilers can prove to be excellent guard dogs for families if they are properly trained. While on one hand, they are loving, loyal and devoted towards their owners, consequently they are also protective and cautious around strangers. These characteristics make the Rottweiler both an obedient family pet and an excellent guard dog. Rottweilers also need a lot of socialization and human companionship to enable him to bond closely with the family. Moreover, it is recommended that a focused and careful training should be given to them at an early age to prevent it from becoming an over an aggressive dog. Sometimes, the Rottweilers can be aggressive towards other dogs and hence, should be kept in leash in public. (Image – www.pawculture.com)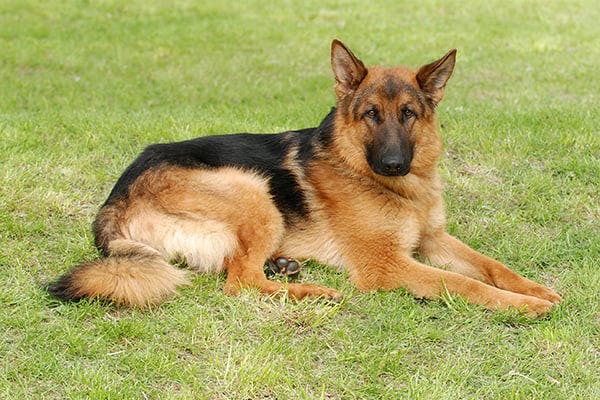 German Shepherd
For decades, German Shepherds have been used by military & police organizations. They possess most of the traits of good guard dogs since they are intelligent, courageous and loving. In spite of having a large size and aggressive appearance, they are very playful in nature also a loving breed. They are considered to be a family's favorite pet due to its tolerant nature and protective instinct. They are highly social and enjoy the company of humans. The German Shepherds are courageous, intelligent and naturally protective of their owners. The German Shepherds are highly obedient which makes them an excellent assistance dog for the disabled. This breed is among the best protection dogs today. German Shepherds are very loyal and form very strong bonds with their owners and will defend them to the bitter end. (Image – wagwalking.com)
Bull Mastiff
Bullmastiff is a blended breed of dog that incorporates 60% Mastiff & 40% Bulldog. They are highly protective and are afraid of nothing. Though Bullmastiff is strongly and powerfully built but they are affectionate, loyal and docile when it comes to their family. Bullmastiff is an ideal family guard dog due to its excellent instincts and a fierce protective nature. It really barks but will definitely attacks if senses danger. The Bullmastiff will become intensely attached to its owners and prefers to be indoors, spending time in the company of people. Furthermore, they are not as clingy as the other breeds, hence, they require less exercise too. On the more, they must be socialized with other dogs while still young in order to prevent it from becoming combative towards other animals. (Image:www.dogbreedplus.com)
Great Dane
Great Danes are massive especially with their staggeringly tall height. They tower over most other dogs and are actually known for being gentle giants. They are simply perfect with family and children with their sensitive and gentle nature. They are patient and friendly breed with an intimidating bark and are ready to act in order to protect their family from potential trouble or danger. Great Danes are remarkable dogs, who provide protection through their appearance alone.( Image : 
Giant Schnauzer
Giant Schnauzer was used for many years as a police dog with their large and powerful assets. They are the loyal ones who bonds for life and will protect you at all cost making them one of the top guard dogs today. Although sensitive, they are guard dogs by nature who are quite powerful and capable of defending their family. They are very powerful and energetic therefore requires a lot of physical and mental stimulation. The Giant Schnauzer is not only intimating due to its size, but they have a menacing bark and fierce bite. (Image – www.nextdaypets.com)
Boxer
Boxer is a medium-sized, short-haired breed of dog that is active, bright and fun-loving in nature and extremely loyal. They have a strong desire for human affection and will prove this affection & love at any cost. With their impressive physiques and energy levels, they are alert to danger and use all the athleticism for the protection of the family. They are well suited for guard dog as they are smart, agile, proactive and easy to train. They make great pets owning to their well deserved reputation for being exceptionally good with family and children. (Image : www.akc.org)
Well, it is important to note that owning a guard dog requires additional responsibility. No doubt that the above breeds make a good family pet, but the owners must take this fact into consideration that they are powerful dogs as well. This to ensure the safety of the family members, neighbors and guests, these guard dogs should be given proper training and must be socialized with other animals and humans.